Borralha Guest House
Vila Real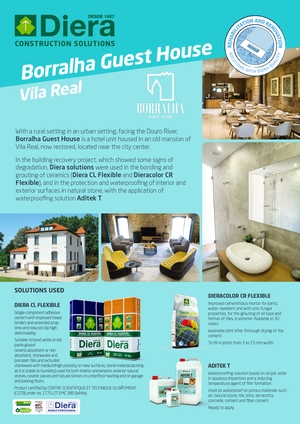 With a rural setting in an urban setting, facing the Douro River, Borralha Guest House is a hotel unit housed in an old mansion of Vila Real, now restored, located near the city center.
In the building recovery project, which showed some signs of degradation, Diera solutions were used in the bonding and grouting of ceramics (Diera CL Flexible and Dieracolor CR Flexible), and in the protection and waterproofing of interior and exterior surfaces in natural stone, with the application of waterproofing solution Aditek T.
SOLUTIONS USED
Single-component adhesive cement with improved mixed binders and extended snap time and reduced slip high deformability.
Suitable to bond white or red paste glazed ceramic,absorbent or non absorbent, stoneware and porcelain tiles and extruded stoneware with medium/high porosity on new surfaces, stone material (as long as it is stable to humidity) used for both interior and exterior, exterior natural stones, ceramic pieces and natural stones on underfloor heating and on garage and parking floors.
Product certified by CENTRE SCIENTIFIQUE ET TECHNIQUE DU BĀTIMENT (CSTB) under no. 1770-273 MC 385 (White).
Improved cementitious mortar for joints, water-repellent and with anti-fungal properties, for the grouting of all type and format of tiles, in exterior. Available in 30 colors.
Washable joint after thorough drying of the cement.
To fill in joints from 3 to 15 mm width.
Waterproofing solution based on acrylic ester in aqueous dispersion and a reducing temperature agent of film formation.
Used as waterproof on porous materials such as: natural stone, tile, brick, terracotta, concrete, cement and fiber cement.
Ready to apply.