DIERA TH THERM FLEX
Paste for thermal insulation (ETICS)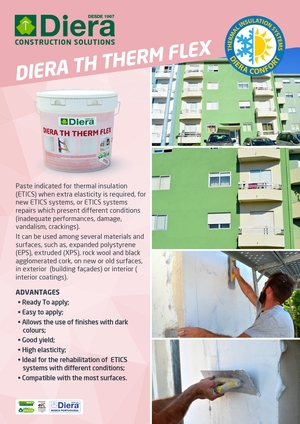 Paste indicated for thermal insulation (ETICS) when extra elasticity is required, for new ETICS systems, or ETICS systems repairs which present different conditions (inadequate performances, damage, vandalism, crackings).
It can be used among several materials and surfaces, such as, expanded polystyrene (EPS), extruded (XPS), rock wool and black agglomerated cork, on new or old surfaces, in exterior (building fašades) or interior ( interior coatings).
ADVANTAGES
- Ready To apply;
- Easy to apply;
- Allows the use of finishes with dark colours;
- Good yield;
- High elasticity;
- Ideal for the rehabilitation of ETICS systems with different conditions;
- Compatible with the most surfaces.